UBRELVY on-the-go
packs—ready anytime, anywhere patients need them
UBRELVY is available in both 50 mg and 100 mg tablets1
Taken orally, with or without food1

A second dose can be taken at least 2 hours after the initial dose (if needed)1

—UBRELVY demonstrated second-dose efficacy—55% of patients achieved pain freedom at 2 hours with an optional second dose after first dose pain relief2

The maximum daily dose is 200 mg1
UBRELVY can be used to treat up to 8 migraines in a 30-day period1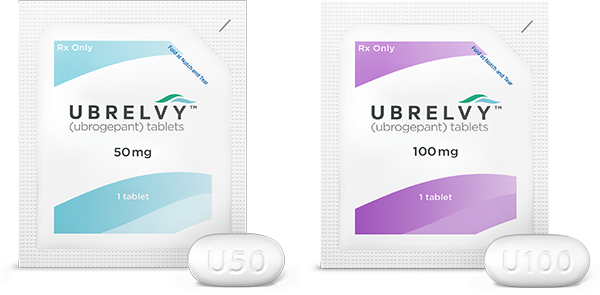 Tablets are not actual size.
Dosing considerations:
UBRELVY should not be used concomitantly with strong CYP3A4 inhibitors, such as ketoconazole, itraconazole, or clarithromycin, as they may cause an increase in UBRELVY exposure1
Strong CYP3A4 inducers should be avoided as concomitant use will result in reduction of ubrogepant exposure1
Patients on moderate or weak CYP3A4 inhibitors or inducers or BCRP and/or P-gp only inhibitors will require dose modifications. See section 2.2 of Prescribing Information
Avoid use in patients with end-stage renal disease1
Dose adjustment is recommended with concomitant use of UBRELVY and moderate CYP3A4 inhibitors including cyclosporine, ciprofloxacin, fluconazole, fluvoxamine, and grapefruit juice1
Severe hepatic or severe renal impairment: Recommended dose is 50 mg; if needed, a second 50 mg dose may be taken at least 2 hours after the initial dose1
In clinical trials, patients were able to use concomitant preventive medications including topiramate, onabotulinumtoxinA, propranolol, and amitriptyline3
Low rates of rescue medication use were observed in the clinical trial program4*
*Rescue medication was the patient's usual acute treatment for migraine.
References
1. UBRELVY [package insert]. Madison, NJ: Allergan USA, Inc.; 2019. 2. Ailani J, Blumenfeld AM, Klein B, et al. An optional second dose of ubrogepant is effective in achieving 2-hour pain freedom in the acute treatment of migraine. Poster presented at: 61st Annual Scientific Meeting of the American Headache Society; July 11-14, 2019; Philadelphia, PA. Poster #P112. 3. Data on file. Allergan. 4. Dodick DW, Lipton RB, Ailani J, et al. Ubrogepant for the treatment of migraine. N Engl J Med. 2019;381(23):2230-2241.