For your patients
administered by ASPN Pharmacies
HELP ENABLE ACCESS TO UBRELVY® FOR ELIGIBLE PATIENTS
Our comprehensive service provides:
Support for Prior Authorizations (PAs)
SMS-based refill reminders
Hassle-free home delivery option for patients
Get started now. No forms, just prescribe

ePrescribe:
Select ASPN Pharmacies in your EHR

Patient Outreach:
ASPN Pharmacies will contact patient within 2 hours

Prescription Delivery:
Overnight shipping* to patient's home or transferred to local pharmacy

Prescriber Outreach
ASPN Pharmacies will contact your office to support the PA process
Ability to track patient's UBRELVY Rx status in real time through ASPN's easy and accessible portal with dedicated support staff ready to assist
*Shipping time may vary for patients with government insurance coverage.
Prefer to send in a prescription?
Call 1-866-309-1865 or fax 1-866-587-3782.
You can also mail a prescription to ASPN Pharmacies, LLC, 290 West Mount Pleasant Ave, Livingston, NJ 07039.
NPI: 1538590690 NCPDP: 3147863
Discuss with your patient
Confirm
the patient's approval to receive a text or call from ASPN Pharmacies, and ensure an accurate phone number is included when you submit the prescription
State
the following to your patient to confirm approval to receive a text:
Can I provide your mobile number to ASPN Pharmacies so they may send you recurring text messages regarding your UBRELVY prescription? Message and data rates may apply. Visit ASPN's website at https://asembia.com/privacy-policy/ for the applicable terms and privacy policy
Inform
patients that they will receive a text or call from ASPN Pharmacies to input prescription preferences
Looking for more information?
To ask questions, CONTACT ASPN PHARMACIES (Asembia) at: 1-866-309-1865
For a printable PDF, DOWNLOAD NOW
16 COUNT IS AVAILABLE FOR YOUR UBRELVY PATIENTS
UBRELVY 100 mg tablets are available in a 16-count package.
Eligible patients may pay as little as
$0—ALL PILLS, ALL FILLS*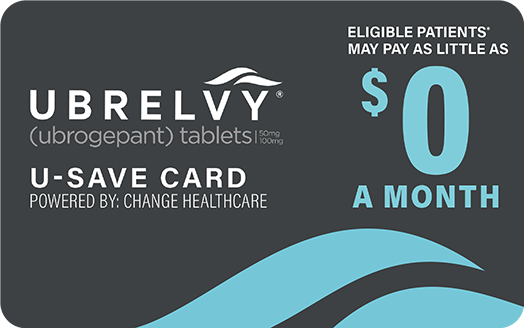 UBRELVY representatives are available to
support you virtually
Download resources to support your patients
Dosing Card
UBRELVY has 2 dosing strengths. Learn more about dosing considerations and how to prescribe.
Download the dosing card
Patient Brochure
Encourage your patients to take UBRELVY when a migraine strikes. Download a brochure to help patients better understand UBRELVY and how it works.
Download the patient brochure
ACCESS SUPPORT LEAVE BEHIND
UBRELVY offers a savings program for eligible patients and services to aid along the way. Find helpful information on ways to get your patients covered or click below to visit the U-Demand™ Relief Suite for additional information.
Download the leave behind
Downloadable templates to help your patients get started on UBRELVY:
This is for informational purposes only and is not intended to provide reimbursement or legal advice. The information presented here does not guarantee payment or coverage.
ABBVIE IS COMMITTED TO HELPING ALL PATIENTS GET THE KIND OF MIGRAINE RELIEF THEY DESERVE, PROVIDING RESOURCES THAT CAN HELP THEM GET ACCESS TO TREATMENT