Now introducing A New Savings offer:
$0ALL PILLS,
ALL FILLS*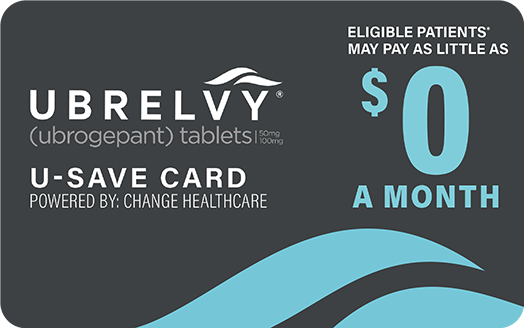 To activate or receive a savings card, patients can either:
If you or your patients have questions about the UBRELVY savings program, call 1.844.4.UBRELVY
*Patient out-of-pocket costs may vary. Terms and Conditions apply. This offer is only valid for commercially insured patients. Offer not valid for patients enrolled in Medicare, Medicaid, or other federal or state healthcare programs. Please see full Program Terms, Conditions, and Eligibility Criteria here.
†Message and data rates apply. Reply HELP for help; reply STOP to cancel. Message frequency depends on user. Consent not required to purchase goods/services.
Terms: smsterms.copaysavingsprogram.com/ubrelvy.
Privacy: smsprivacy.copaysavingsprogram.com/ubrelvyprivacy-policy.
UBRELVY representatives are available to
support you virtually
Download resources to support your office and your patients
In-office Tools
UBRELVY PRESCRIPTION FORM
Make it even easier to prescribe UBRELVY. Download this template to save time when writing out a prescription.
Download the form
Dosing Card
UBRELVY has 2 dosing strengths. Learn more about dosing considerations and how to prescribe.
Download the dosing card
Patient Resources
Patient Brochure
Encourage your patients to take UBRELVY when a migraine strikes. Download a brochure to help patients better understand UBRELVY and how it works.
Download the patient brochure
Access and Savings Tool
ACCESS SUPPORT LEAVE BEHIND
UBRELVY offers a savings program for eligible patients and services to aid along the way. Find helpful information on ways to get your patients covered or click below to visit the U-Demand™ Relief Suite for additional information.
Download the leave behind
Downloadable templates to help your patients get started on UBRELVY:
This is for informational purposes only and is not intended to provide reimbursement or legal advice. The information presented here does not guarantee payment or coverage.
ABBVIE IS COMMITTED TO HELPING ALL PATIENTS GET THE KIND OF MIGRAINE RELIEF THEY DESERVE, PROVIDING RESOURCES THAT CAN HELP THEM GET ACCESS TO TREATMENT